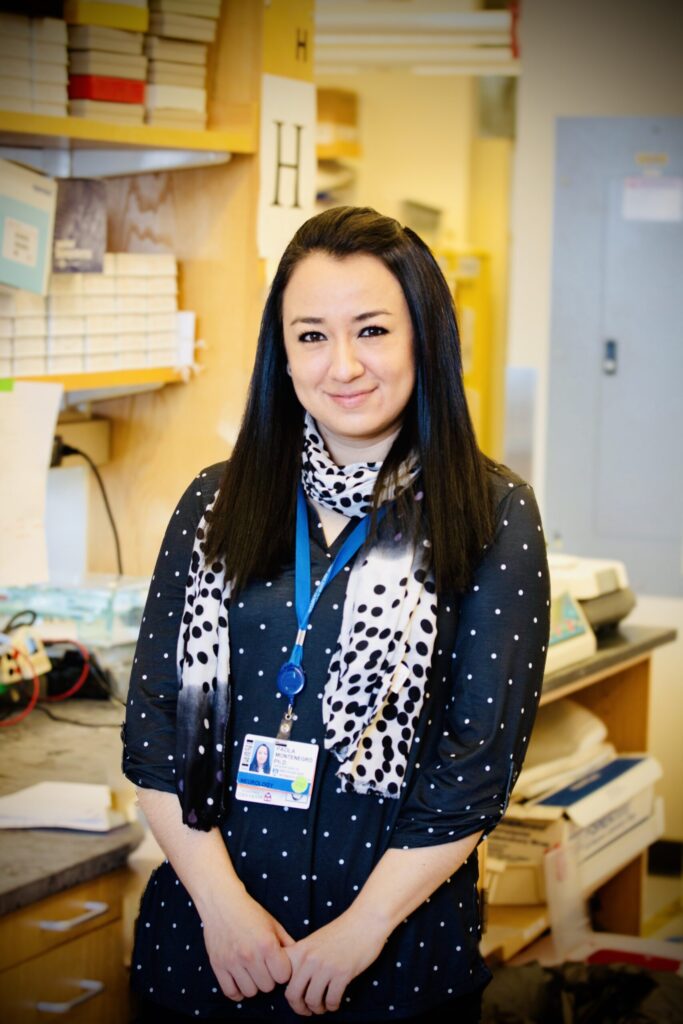 Paola Montenegro, Ph.D.
Postdoctoral Fellow
Education: Purdue University (Ph.D.)
pmontenegro@bwh.harvard.edu
Montenegro PC, Rochet JC et al. Optimized rat primary midbrain and cortical mix-culture for the study of Parkinson's disease. 2019, In preparation.
Montenegro PC, Rochet JC et al. Effects of the A53E substitution on alpha-synuclein aggregation and neurotoxicity in PD models. 2019, In preparation.
Sanyal A, Dutta S, Chandra A, Koller A, Camara A, Watson B, Sengupta R, Ysselstein D, Montenegro PC, Cannon J, Rochet JC, Matoo S. Alpha-Synuclein is a target of Fic-targeted adenylylation/AMPylation: Implications for Parkinson's Disease. Journal of Molecular Biology 2019, 431:2266-2282.
Bentz B, Mahalingam S, Ysselstein D, Montenegro PC, Cannon JR, Rochet JC, Low PS, Webb KJ. Localization of fluorescent targets in deep tissue with expanded beam illumination for studies of cancer and the brain. IEEE Transactions on Medical Imaging 2020, 39:2472-2481.
Cruz-Hernandez A, Agim ZS, Montenegro PC, McCabe GP, Rochet JC, Cannon JR. Selective dopaminergic neurotoxicity of three heterocyclic amine subclasses in primary rat midbrain neurons. Neurotoxicology 2018, 65:68-84.
Bademci G, Foster J, Mahdieh N, Bonyadi M, Duman D, Cengiz FB, Menendez I, Diaz-Horta O, Shirkavand A, Zeinali S, Subasioglu A, Tokgoz-Yilmaz S, Huesca-Hernandez F, de la Luz Arenas-Soto M, Dominguez-Aburto J, Montenegro PC, Parades R, Moreta G, Vinueza R, Villegas F, Mendoza-Benitez S, Guo S, Bozan N, Tos T, Incesilu A, Sennaroglu G, Blanton SH, Ozturkmen H, Yildrim M, Tekin M. Comprenhensive analysis via exome sequencing uncovers genetic etiology in autosomal recessive nonsyndrimic deafness in a large multiethnic cohort. Genetics in Medicine 2016, 18(4):364-71.
Bademci G, Lasisi A, Yariz KO, Montenegro PC, Menendez I, Vinueza R, Paredes R, Moreta G, Subasioglu S, Blanton S, Fitoz S, Incesulu A, Sennaroglu L, Tekin M. Novel domain-specific POU3F4 mutations are associated with X-Linked deafness: examples in different populations. BMC Medical Genetics 2015, 16:9.
Hervas F, Torres KP, Montenegro PC, del Pino EM. Development and gastrulation in Hyloxalus vertebralis and Dendrobates auratus (Anura: Dendrobatidae). Amphibian and Reptile Conservation 2014, 8(1), 121-135.
Montenegro PC, del Pino EM. La gastrulación de Epipedobates anthonyi (Anura: Dendrobatidae) Revista Ecuatoriana de Medicina y Ciencias Biológicas 2011, XXXII1(2), 24-32.
Del Pino EM, Venegas MF, Romero A, Montenegro PC, Sáenz N, Moya IM, Alarcón I, Sudou N, Taira M. A comparative analysis of frog early development. PNAS 2007, 104(29), 11882-11888.
---