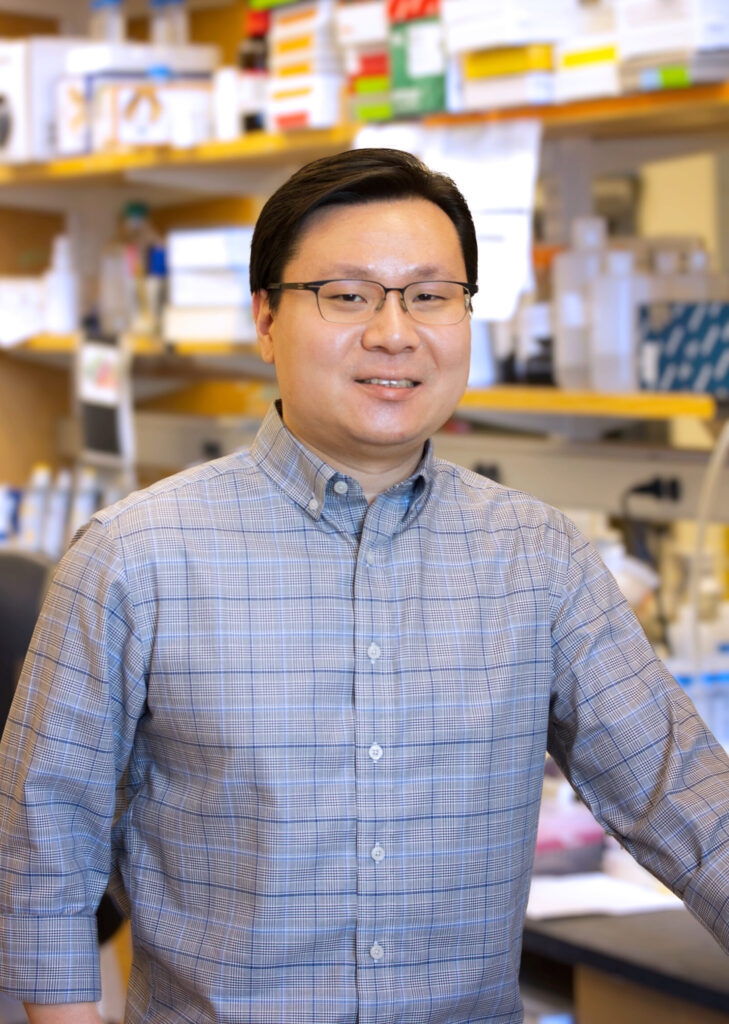 Sanghun Lee, Ph.D.
Instructor of Neurology
Education: Seoul National University College of Medicine
slee82@bwh.harvard.edu
Lee SH, Bolshakov VY, Shen J. Inactivation of Presenilin in inhibitory neurons results in decreased GABAergic responses and enhanced synaptic plasticity. Molecular Brain 2021, 14 (85)
Kim KR, Kim YS, Jeong, HJ, Kang JS, Lee SH, Kim YJ, Lee SH, Ho WK. Impaired pattern separation in TG2576 mice is associated with hyper excitable dentate gyrus caused by Kv4.1 downregulation. Molecular Brain 2021, 14:62.
Lee SH*, Kang J*, Ho A*, Watanabe H, Bolshakov VY, Shen J. APP family regulates neuronal excitability and synaptic plasticity but not neuronal survival. Neuron 2020, 108(4): 676-690. *Co-first author
Lee SH*, Lutz D, Drexler D, Frotscher M, Shen J. Differential modulation of short-term plasticity at hippocampal mossy fiber and Schaffer collateral synapses by mitochondrial Ca2+. PLOS ONE 2020. * Corresponding author
Lee SH*, Lutz D, Mossalam M, Bolshakov VY, Frotscher M, Shen J*. Presenilins regulate synaptic plasticity and mitochondrial calcium homeostasis in the hippocampal mossy fiber pathway. Molecular Neurodegeneration 2017, 12: 48. * Corresponding author
Xia D, Watanabe H, Wu B, Lee SH, Li Y, Tsvetkov E, Bolshakov VY, Shen J and Kelleher RJ 3rd. Presenilin-1 knockin mice reveal loss-of-function mechanism for familial Alzheimer's disease. Neuron 2015, 85: 967-981.
Lee SH, Sharma M, Südhof T, Shen J. Synaptic function of nicastrin in hippocampal neurons. Proceedings of the National Academy of Sciences 2014, 111(24): 8973-8978.
Cho HJ, Lee HJ, Youn SW, Koh SJ, Won JY, Chung YJ, Cho HJ, Yoon CH, Lee SW, Lee EJ, Kwon YW, Lee HY, Lee SH, Ho WK, Park YB, Kim HS. Secondary sphere formation enhances the functionality of cardiac progenitor cells. Molecular Therapy 2012, 20:1750-1766.
Lee SH*, Kim KR*, Ryu SY, Son S, Hong HS, Mook-Jung I, Lee SH, Ho WK. Impaired short-term plasticity in mossy fiber synapses caused by mitochondrial dysfunction of dentate granule cells is the earliest synaptic deficit in a mouse model of Alzheimer's disease. The Journal of Neuroscience 2012, 32: 5953-5963. * Co-first author
Lee TH, Song SH, Kim KL, Yi JY, Shin GH, Kim JY, Kim J, Han YM, Lee SH, Lee SH, Shim SH, Suh W. Functional recapitulation of smooth muscle cells via induced pluripotent stem cells from human aortic smooth muscle cells. Circulation Research 2010, 106: 120-128.
Lee SH, Ho WK, Lee SH. Characterization of somatic Ca2+ clearance mechanisms in young and mature hippocampal granule cells. Cell Calcium 2009, 45: 465-473.
Jang JH, Ku SY, Kim JE, Choi KH, Kim YY, Kim HS, Oh SK, Lee EJ, Cho HJ, Song YH, Lee SH, Lee SH, Suh CS, Kim SH, Moon SY, Choi YM. Notch Inhibition Promotes Human Embryonic Stem Cell-Derived Cardiac Mesoderm Differentiation. Stem Cells 2008, 26: 2782-2790.
Lee SH, Park KH, Ho WK, Lee SH. Postnatal developmental changes in Ca2+ homeostasis in supraoptic magnocellular neurons. Cell Calcium 2007, 41(5): 441-450.
Joo JY, Kim BW, Lee JS, Park JY, Kim S, Yun YJ, Lee SH, Lee SH, Rhim H, Son H. Activation of NMDA receptors increases proliferation and differentiation of hippocampal neural progenitor cells. Journal of Cell Science 2007, 120(Pt 8): 1358-1370.
Lee SH, Kim MH, Lee JY, Lee SH, Lee D, Park KH, Ho WK. Na+/Ca2+ exchange and Ca2+ homeostasis in axon terminals of mammalian central neurons. Annals of the New York Academy of Sciences 2007, 1099: 396-412.